May 1, 2022
6 Essential Tips When Moving Into a New Home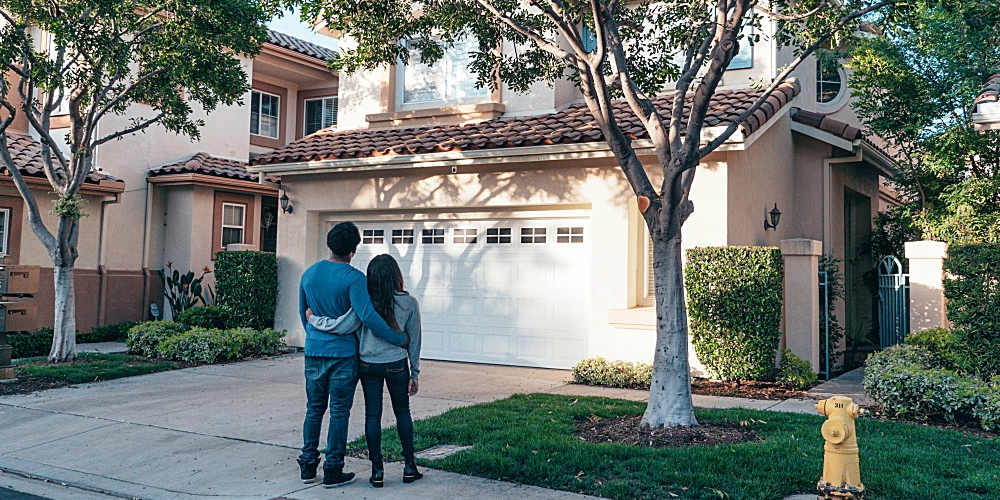 Are you moving into a new home? Moving is an exciting experience, but it can also be overwhelming. The moving process alone involves a lot of time, effort, and organization to ensure that your move can be as seamless as possible.
Here at Movers Boston, we are your #1 Rated Boston Moving Company and we want to help you move with as little hassle as possible. If you're preparing to relocate to your new home, read on to learn some of the best tips to consider to help you avoid common mistakes that many homeowners make when relocating.
6 Tips When Moving Into a New Home
Every homeowner wants to simplify their moving process. Here are 6 tips that you can implement to help you achieve your moving goals.
1. Create a Checklist
Having a checklist is key to organizing your relocation and sets the tone for its success. Ultimately, your moving checklist will involve a timeline of various things that need to be done by the time you're ready to move.
Your checklist may include:
Ordering moving supplies
Contacting appropriate parties about your relocation
Check on auto and home insurance
Research moving companies
Establishing your budget
2. Set Your Budget
No matter how you choose to move your belongings, you will need to create a budget to lessen any financial burdens that a move can place on you. One of the biggest costs that you will need to think about is how you will move everything. The three common moving routes include renting your own truck, using a container, and hiring a professional moving company.
Renting Your Own Truck
Choosing to rent your own truck could be a cheaper option if you're on a tighter budget. However, you will need to be prepared to put in a lot of time and effort to successfully relocate your belongings. Not only will you need to figure out how to load everything on and off the truck, but you also need to pay for gas and you'll be responsible for damage protection.
Using a Container
Another popular option when moving is a moving self-storage container. Similar to renting a truck, these containers are relatively more affordable. But, there are some drawbacks to consider. For instance, you will need to figure out how you will load and unload all of your belongings.
Additionally, some communities prevent self-storage containers in the driveway, such as in certain HOA communities. You may even be fined if you leave it on the street instead, depending on your community.
Hiring a Professional Moving Company
Choosing to hire a professional moving company will likely be the most expensive option, but it is the easiest and most convenient way to move all of your belongings. In fact, there are a variety of benefits to hiring a professional moving company. Taking advantage of a moving company means that you'll get to:
Have Peace of Mind: There's certainly a lot involved in the moving process. A professional moving company can help with packing, estimation of moving load, and carrying your belongings from point A to point B without you needing to worry.
Saves Time and Energy: A professional moving company does all of the hard work so that you don't have to. A moving company will have the skills and experience to quickly and efficiently pack up your home and take your belongings to its new destination.
No Need to Worry About Potential Damages: Packing up your home and moving is not only time-consuming, but it involves a lot of heavy labor. For DIY movers, this increases the risk of damage to personal belongings. But professional movers will have the team, experience, and equipment to relocate your things quickly and safely.
Regardless of which option you choose, it's important to understand the true cost of your investment, what you'll receive, and what's affordable according to your budget. Setting a budget enables you to limit your stress load and plan accordingly.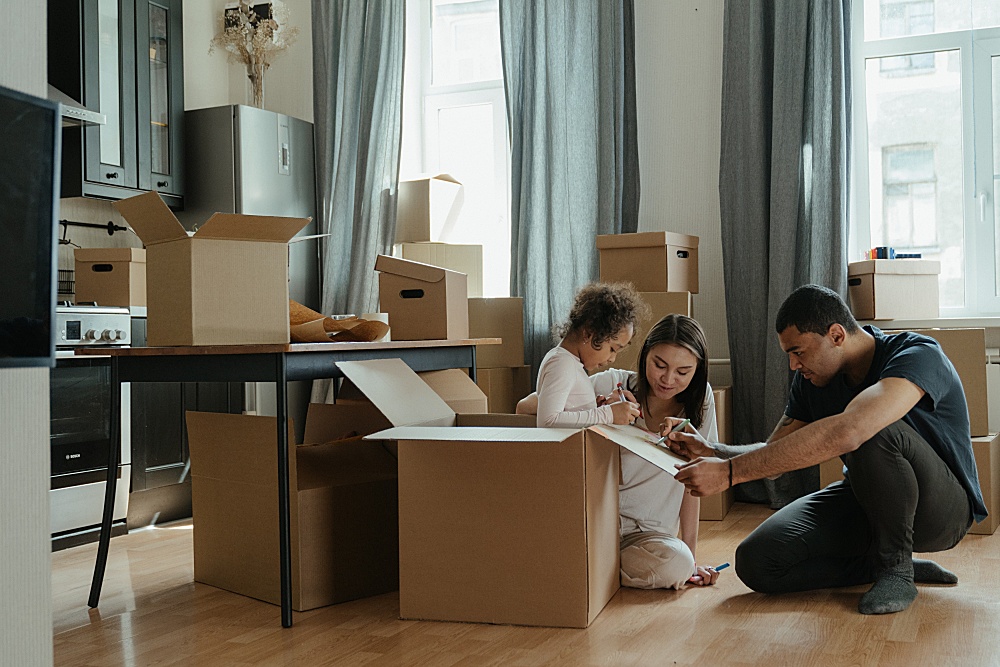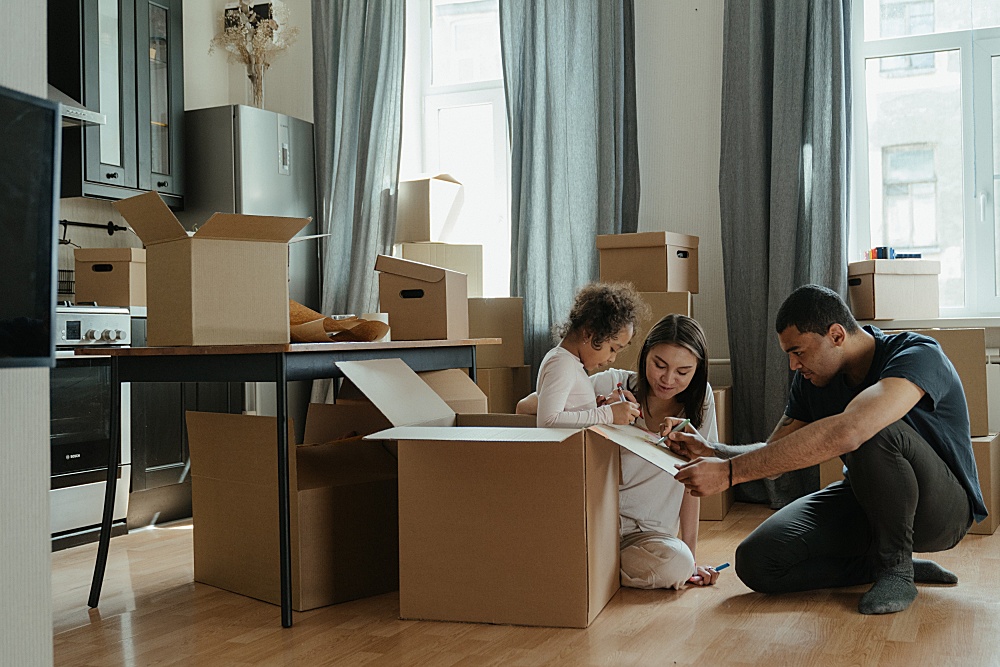 3. Send Out Notices to the Appropriate Parties
The moving process can be quite stressful, time-consuming, and involve a lot of steps. As such, it's easy to forget things like sending out notices to the appropriate parties to let them know you'll be moving.
For instance, you will need to notify your local bank and let them know of your new residence so they can have this information on file. You'll also need to notify the post office that you've moved so they'll begin sending your mail to the new address. Be sure to make a list of all address changes and begin alerting everyone to prevent unnecessary confusion.
4. Invest in Quality Moving Boxes
When making your budget, be sure to leave enough funds for quality moving boxes. While it may be tempting to save money by using cheap boxes, this can be a disaster waiting to happen.
Cheap moving boxes aren't able to hold as many items and are more prone to tearing. This is not only inefficient, but you put your personal items at risk. With that said, the best way to protect your belongings is by investing in quality moving boxes that provide you with the durability you need for a stress-free moving experience.
5. Avoid Overpacking
Even with high-quality moving boxes, it's best to avoid overpacking. Many homeowners make this mistake because they want to save time and avoid making too many back-and-forth trips.
However, overpacking moving boxes will make it difficult to carry the boxes during your relocation. For this reason, it's important to only include what can comfortably fit into each moving box for an easier experience.
6. Hire a Quality Moving Company
If you can afford it, it's always best to hire a quality moving company. A moving company offers invaluable support in your time of transition and can help your journey go much more smoothly. With that said, be sure to thoroughly research potential moving companies to make sure you are choosing someone who is reputable. A quality moving company should have the following:
A license from the U.S government
Adequate insurance
A good reputation
Experience
Are you a Boston resident preparing for a big move? Consider Movers Boston as your moving company of choice. Whether you're moving locally, long-distance, or have a commercial move, we have you covered. Plus, we'll also help with packing by providing you with a variety of boxes to carefully pack your things. Contact us today to get a quote online or call us at (617)-903-2609.